MOZILLA KICKS ASS!
| | |
| --- | --- |
| The Mozilla Firefox web browser is the best full-featued, up to the minute, standards compliant web browser in the world and it is 100% FREE! You can even download and work with the source code! If you are still using that ancient buggy old Microsoft web browser then why haven't you upgraded to the latest-and-greatest Mozilla yet? There is no excuse! | |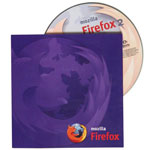 Official Firefox CDs and other cool stuff!
Buy one! Better yet, buy a dozen!